Meet the Good Life Center Team
Who are the Good Life Center Stewards?
Stewards of the Good Life Center activate this ethic by attending annual meetings to exercise their right to voice and vote on the nomination of Directors and the annual program plan and budget. The Stewards are the animating influence of the Good Life Center. Stewards often create and execute special projects for the Good Life Center. Many talents are appreciated to assist with the management of this precious resource.
If you would like to join our illustrious group of Stewards and use your energies to further enhance this Good Life, please contact any of our members!
Resident Stewards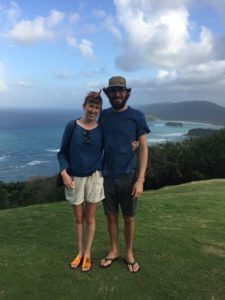 Jeanie and Alex | 2017 Resident Stewards
Currently hailing from Portland, Oregon, Jeanie and Alex are absolutely thrilled to spend summer 2017 caring for and carrying on the Nearings' legacy. Married on Cape Cod in 2016, as part of their ceremony Jeanie and Alex made a pact to maintain an adventurous and spontaneous spirit. The coast of Maine is calling!
Jeanie Kirk, a would-be 14th-generation Cape Codder, is a writer, editor, curator, feminist, and environmentalist. Her life has been guided by an ethos and desire to "do good" – a complex and ever changing lens through which to view the world. Jeanie loves exploring the concept of intersectionality and is an avid, life-long learner of progressive movements. With a master's degree from Columbia University focused on the significance of climate change's impacts on sustainable development, Jeanie currently makes a living as a consultant for environmental and social justice organizations in Louisiana, the front line of sea level rise in the continental United States. Jeanie loves the ocean, really big trees, yoga, hiking, skiing, cooking, reading, swimming, and fresh flowers from Alex.
Alex Page, was born in Santa Cruz, California and feels most at ease with the ocean at one side. Having studied English at Pitzer College, he pursued his love of travel through a Fulbright fellowship in Korea. Upon returning, he moved to San Francisco to work for environmental non-profits, ultimately leaving to attend the University of Oregon to earn a master's degree in sustainable transportation planning. Alex grew up on a 2.5 acre urban jungle oasis, yet did not truly appreciate his mother's green thumb until he began his own backyard organic gardening. Still a novice, he's ready to test his skills on a larger, higher stakes garden. Alex loves biking, hiking, skiing, cooking, baking, gardening, and a cold glass of chocolate milk.
Together Jeanie and Alex are curious and compassionate listeners, eager to learn, and dedicated to supporting sustainable systems of living in partnership with the earth. They are so excited to spend the summer in Maine within the Nearings' community and to support and encourage the Nearings' legacy of environmental and economic justice.
Active Stewards
Warren Berkowitz | Board Member, Farm Manager
Blue Hill, ME

Warren Berkowitz was a long-time friend of the Nearings and one of the Good Life Center's first stewards. After 40 years of service in public education Warren now lives in Blue Hill, Maine with his wife Nancy. Warren's goals as Farm Manager include maintaining Forest Farm to provide future generations with access to the inspiring Nearing legacy, nurturing the Residential Steward Program and inviting youth groups to participate in the Good Life Center's Daily activities. A proud parent, Warren's two adult children have wonderful memories of time spent with Helen at Forest Farm. Daughter Jenny is a yoga teacher, professional dancer and Occupational Therapist in Baltimore and son Jacob Scott is an international economics analyst in Washington DC. Warren's primary interests include gardening, yoga and tennis.

Martha Young | Senior Development Officer
Piscataquis County, ME
Martha YoungSenior Development Officer, Martha Young lives on a farm in rural Piscataquis County, where she and her husband, Richard Garrett, are licensed maple syrup producers, avid gardeners, photographers, loggers and researchers. She's on the board of the Bingham Area Health Council and the South Solon Historical Society. Martha's Quaker education has provided the impetus for her numerous socially philanthropic projects and interest in our ecosystem. She's especially concerned about the threats to human health and the natural environment by hazardous waste, industrial pollution and dangerous chemicals.

Mary Hildebrand | Bookkeeper
Surry, ME
Mary HildebrandMary Hildebrand lives with her husband Steve in an owner-built, solar powered off-grid home in Surry, Maine, where they grow a lovely garden on their small, wooded, pastured lot. Mary is a firm believer in Scott and Helen Nearing's pay-as-you-go philosophy. She enjoys volunteering at The Simmering Pot Community Supper and is a member of the Hancock County Food Security Network. Along with Steve and a small group of close friends she shouts it out with a local rock n' roll band known as The Free Radicals.

Josh Saltmarsh | Board Chair, Webmaster
Chappaquiddick Island, Edgartown, MA

Josh Saltmarsh studied finance and after college worked in New York and Boston. "Narrowly escaping the grasp of corporate America", he moved to Maine for four years where he owned a small business and became interested in a simpler lifestyle. During his time there he built an off grid tiny house and studied permaculture and natural building. Josh first visited Forest Farm in 1996 with his father, John Saltmarsh, who at the time was writing a biography of Scott Nearing. Years later, in 2015, Josh reconnected with the GLC as part of his quest to build a sustainable and self-sufficient lifestyle. Josh's primary interests include permaculture studies, surfing and yoga.

Alison Stephens | Board Member
Blue Hill, ME
Alison Stephens was raised a pacifist Quaker, living with her activist parents overseas during the French and Algerian war. Worked as the first Victim-Witness Advocate with the Hancock Co. District Attorneys office in Ellsworth Maine in the 1980's. She married Rev. Charles Stephens, and became a Unitarian Universalist, helping to serve a number of churches in varying states over the years. They raised 3 children and she worked as an office administrator in varying positions. Returning to Maine in 2012 to create their own homestead in Blue Hill, Alison and Charles were able to become Resident Stewards of the Good Life Center during the 2012 season. She eagerly learned all she could about the Nearing's, their history and philosophy. It was an honor taking care of the homestead and garden and sharing the Nearing's message of independent, simple living and political activism with visitors.
After the stint as Resident Stewards, Alison worked as a part time administrator for the Good Life Center for a spell. Continuing with her interest in The Good Life Center she is now on the Board.


David Zachow | Board Member
Harborside, ME
Scott Nearing wrote extensively about the friction between blue collar labor and the owning class. Having spent his life working in steel mills, factories and construction sites, David knows the truth of Scott's writings. He has seen first hand how modern industrialization has diminished man's soul and his connection to the world and his neighbors. David spent 30 years operating small construction businesses that built strawbale , cob and energy efficient houses, attempting to find a balance between practicality and artful space that nourishes the soul. A licensed master electrician, David's last business was a solar electric installation company that helped homeowners to lower their carbon footprint and achieve energy independence.
Jocelyn Langer | Advisory Board Member
Hubbardston, MA
Jocelyn Langer has been a member of the Good Life Center group of stewards and board of directors for over 10 years, serving as Secretary and Chair during that time. Jocelyn is also an artist, musician and teacher, and serves as Executive Director of the Listening Wellness Center in Barre, MA. She has traveled around the world learning about holistic health and sustainable agriculture, and currently lives in Hubbardston, MA.
Keith Morton | Advisory Board Member
Warren, RI
Keith Morton became a steward of the Good Life Center in 1996, and served on the board for nearly a decade. He teaches public and community service studies at Providence College, and lives on a small farm in Warren, Rhode Island. His teaching includes courses on the history of simple living, nonviolence and community building. He continues to appreciate the social and political significance of the GLC and the people it brings together.

John Saltmarsh | Advisory Board Member
Wayland, MA
John first met Scott and Helen when Scott was in his 99th year. As a result of that time spent at Forest Farm, he wrote a biography of Scott (The Making of a Homesteader, 1991), worked with, and then without, Helen in the creation of the Good Life Center, serving as its first Board Chair. It was an outcome of that first meeting that he was introduced their friend, Bill Coperthwaite, forming an endearing friendship that included writing the introduction to his A Handmade Life (2007). It was in the creation of the Good Life Center that he also met Guy and Laura Waterman, Vermont homesteaders who had started their homesteading journey guided by the Nearing's Living the Good Life. The Watermans gifted their homestead, Barra, to the Good Life Center to create opportunities for future generations of homesteaders, and he had the good fortune to work on that project for over a decade. What he have learned since that first meeting with Scott and Helen is that the Good Life Center, advancing the Nearing ideas and values, exists primarily in order to support and encourage others to explore what the good life means for them, and to assist them in their journey. This is important, and increasingly urgent, work. It is also his work as an educator at the University of Massachusetts, Boston, where his efforts focus on revitalizing the public purposes of higher education to assist students in developing their civic agency in a diverse democracy.

Sam Adels | Advisory Board Member
Beacon, NY
Sam fell in love with growing food after years of being asked to help out in the family garden. Sam studied history and the environment at Macalester College and has a masters degree in environmental education from New York University. Sam is committed to social and environmental justice and has devoted his professional life to environmental education. Sam and his wife Claire were the resident stewards of Forest Farm in 2015. He wrote a blog about the experience for the Bangor Daily News. Deeply inspired by his time at the Good Life Center, Sam currently teaches organic gardening to public elementary school students in the Hudson Valley, New York. Sam teaches through hands-on, experiential education, and enjoys encouraging kids to explore and connect to the world around them, in hopes of inspiring future generations of eco-literate stewards. When not in the classroom or garden, Sam can be found cooking, baking, or exploring the Hudson Valley by foot or bicycle.